Lloyd & Agnes Smith
Lloyd Raymond Smith was born in 1883. He attended West Division High School in Milwaukee and the University of Wisconsin-Milwaukee, before following his father into the family business — the A.O. Smith Corporation.
Agnes Gram was born in 1893. Lloyd and Agnes married in 1915, two years after Lloyd had become president of A.O. Smith. It is said that Agnes wanted to build a unique house that reflected her love of architecture and design. Some years after returning from a family trip to Italy, she commissioned renowned architect David Adler to design a home in the style of an Italian Renaissance villa. Given its lakefront location and Italian inspiration, the home came to be called Sopra Mare ("above the sea" in Italian). It was completed in 1923.
Lloyd and Agnes — who were known to family and friends as Ray and Becky — had six children. The Smiths' eldest son died at the age of nine, only one year after the family moved into Sopra Mare. The other children — June Ellyn, Lloyd Bruce, Suzanne, Dana Lou and Arthur Oliver — all spent their youth at Sopra Mare. The south wing bedrooms and baths belonged to the children. Becky recalled, "They loved the idea of being off by themselves, where they could run from one room to another after we thought they were tucked in bed and sound asleep."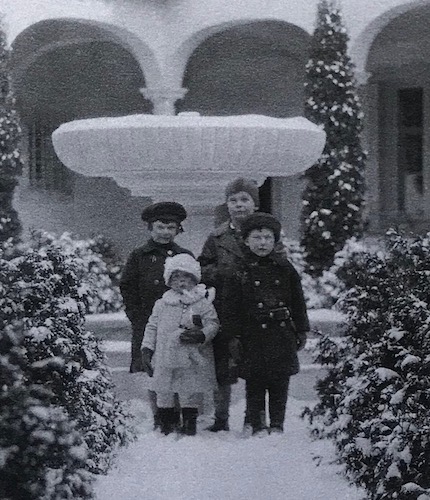 Sopra Mare was a warm and welcoming center for the Smith family and friends. Stories of fabulous parties and bountiful Thanksgiving and Christmas celebrations at the home were well known around the city. The Smiths' pervading spirit of warmth and hospitality is still present at the Villa today.
Lloyd died of a heart attack at Sopra Mare in December 1944. Becky later remarried twice, most recently to John Curtis. In 1966, Agnes shared her love of design with the community by donating Sopra Mare to Milwaukee County for use as a decorative arts museum. The home was then rechristened Villa Terrace. Becky died in 1981. Lloyd Raymond Smith and Agnes Gram Smith Hummel Curtis are buried in the Smith family plot at Forest Home Cemetery in Milwaukee.