Rose Standish Nichols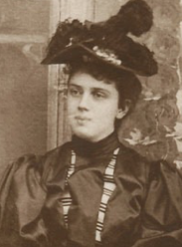 Rose Standish Nichols (1872–1960) was a landscape architect, writer, suffragist, and peace activist. She collaborated with Villa Terrace architect David Adler (jump to his bio) on the design of the Sopra Mare garden and its water stairway, which were probably adapted from the layout of the sixteenth-century Villa Cicogna-Mozzoni garden that she described in her book, Italian Pleasure Gardens, published in 1928.
As a landscape architect, Nichols was enthralled by the Beaux-Arts style, which is evident in her tranquil, cohesive and approachable garden designs. Rose designed about seventy gardens across the continental United States. While she worked in Georgia, Arizona and California, most of her work appeared in Lake Forest, Illinois. Though known more for her style than innovation, Rose was able to mimic famous gardens and make them feel at home adjacent to twentieth-century architecture.
In addition to completing design courses at MIT, Rose was mentored by her uncle — the sculptor Augustus Saint-Gaudens — and took instruction from the painter, architect and landscape designer, Charles A. Platt.
Nichols never married, instead devoting herself to a career in garden design and writing. In addition, Rose supported the pacifist movement by becoming involved with the League of Small Nations and the Women's International League for Peace and Freedom. Upon her death in 1960, Rose left her home and its furnishings to become the Nichols House Museum, located in the Beacon Hill neighborhood of Boston, Massachusetts.
More information on the life and career of Rose Standish Nichols — including a comprehensive list of all known and attributed garden designs — can be found at the Nichols House Museum webpage.