David Adler
The Smiths hired the renowned architect and Milwaukee native David Adler (1883–1949) to build their dream home. The idea to build a home in the style of a sixteenth-century Northern Italian villa came on a trip to Italy after their marriage in 1915. Choosing between two Milwaukee sites, they settled on its present location, with Adler reportedly saying, "Let Lake Michigan be my Mediterranean." Fittingly, the original name for the home was Sopra Mare ("above the sea" in Italian).

David Adler received a Bachelor of Arts degree from Princeton University and studied architecture for six years at the École des Beaux Arts in Paris. His career began in Chicago in 1913 in a series of partnerships. From 1929 on, Adler was a sole practitioner. His career comprises about 200 commissions, most of them private residences. His homes can be found in 15 states and British Columbia, although 43 are located in the northern suburbs of Chicago. Sopra Mare is the only Adler-designed house in Wisconsin.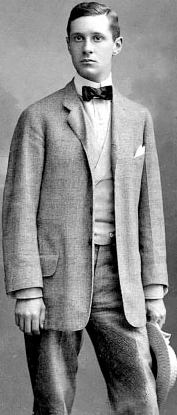 Adler enlisted Rose Standish Nichols — one of the most influential garden designers of her day and an expert on Italian gardens — to design a Renaissance-stylegarden — featuring authentic Italian water stairs and a stone fishpond — that linked the house to the lakeshore. (For more on Rose Standish Nichols, click here.)
David Adler is recognized for his eclecticism in country-house design. To Adler, the choice of architectural style — Tudor, French Chateau or Italianate — was less important than the evocation of a certain simply expressed ideal. Adler did two things as well as any other architect of his generation. He translated his eclectic architectural references to accommodate an Americanized ease of domestic life, and he insisted on a standard of craftsmanship that allowed materials, details and furnishings to blend into a seamless and stylish whole.
The organizing principles of the villa plan are symmetry and the interrelationship between indoor spaces and exterior court and garden spaces. In its symmetry and its axial coordination of courtyard, house and garden, Sopra Mare is a wonderful example of Italianate design. But in terms of context, it is also very peculiar. Unlike Adler's suburban homes in and around Lake Forest, Illinois, the Smith house is a Mediterranean country house dropped into an urban setting in a sometimes-harsh Northern climate. As a result, the house and garden contrast dramatically with neighboring structures. The Smiths' home is low in profile, set back behind a walled forecourt. It is a house that points away from the street, turning inward to its courtyard, terrace and garden. It speaks of intimacy, subdued elegance and domesticity quite unlike anything else along Terrace Avenue. It's a retreat from the city in the heart of the city.